WELCOME TO NEW ZEALAND TROPHY HUNTING
New Zealand Trophy Hunting - the home of the world's largest red stags.
NZTHL was one of the first trophy hunting operators established in New Zealand. Today it is also one of the largest. This company is one of few that have stood the test of time and continues to consistently produce record book trophies to discerning hunters. To date we have over 150 entries in the SCI trophy record book. Let your trophy be next.

NZTH has an enviable infrastructure, holding ownership of the key elements that make any hunting operation a success. Coupled with experienced, professional management, we have an operation that the hunting industry can be proud of.
Our commitment to you is that we will exceed the expectations of your South Pacific hunting adventure. We will ensure that you not only have exceptional hunting experiences, but that you will also experience a slice of our local culture and the best New Zealand has to offer.
Tailor Made Hunt Packages
At NZTH we specialise in custom made hunt packages. These are carefully and specifically designed based on the requirements of each individual client. Through this concept you can be guaranteed to experience your ultimate quest.
You can rest assured that you will recieve gold medal service at every step of the way.
We look forward to hosting you on your New Zealand hunting adventure.
LATEST UPDATES FROM NZTH
AUSTRALIAN HUNTS NOW AVAILABLE!
New Zealand Trophy Hunting is delighted to be able to offer your true South Pacific experience…with the acquisition of access to some exclusive Aboriginal hunting grounds in Arnhem Land on the northern tip of Australia. It is considered a privilege to hunt on this untamed 2.1 million acre territory which can only be described as the "real deal". While you are "down under" … why not add an Australian stopover to your New Zealand adventure. See our Australian Hunts page for further details…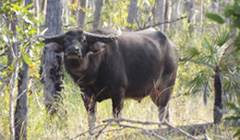 NEW ZEALAND TROPHY HUNTING IN THE RECORD BOOKS AGAIN - X 3 - IT'S A HAT TRICK!
An unforgettable adventure with Fernando Soler resulted in this phenomenal Red Stag and ultimately a new world record. Scoring 669 2/8 SCI Fernando's impressive animal was one of the many which he took on his hunting quest with us in May 2012.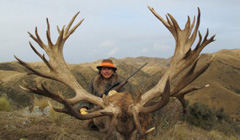 Jessica Brooks-Stevens and the Barnes group hunted with us in March 2012. Jessica shot her unbelievable free range Red Stag using a Fierce 270 WSM with Swarovski Optics and a 140gn Barnes TSX bullet. This pending new world record free range Red Stag scored an incredible 359 6/8 SCI. Barnes Bullets - www.barnesbullets.com
And Gene Gordner of Gene Gordner Custom Guns added another official World Record - this time using black powder. Gene took his outstanding Free Range Red Stag scoring 319 SCI with a custom 10 bore Flintlock rifle which he built himself .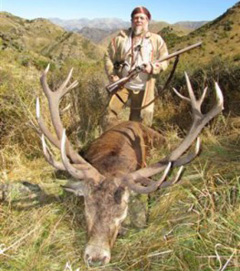 Custom rifles:  www.customrifles.us